The Committee
ITU is the leading United Nations agency for information and communication technologies. As the global focal point for governments and the private sector, ITU's role in helping the world communicate spans 3 core sectors: radiocommunication, standardization and development. ITU also organizes TELECOM events and was the lead organizing agency of the World Summit on the Information Society.
ITU is based in Geneva, Switzerland, and its membership includes 191 Member States and more than 700 Sector Members and Associates.
Topics
Topic A: Legal and Political Challenges of Consumer Protection in Digital Commerce
Consumer protection policies, though often well intended, too frequently fall short of the real problems they are meant to tackle, rather hedging them in than solving them. This is even more of an issue in digital commerce, where the usually transnational nature of businesses makes efficient and thorough regulation a task nigh impossible to succeed at. With sentiment on the issue of consumer protection running high in the wake of resentment towards free trade agreements and the common standards often included in them, the United Nations seeks to clearly identify these challenges. This committee will try to find a truly global answer to the issue of digital commerce and the challenges to consumer protection no nation alone can tackle.
Topic B: "Connect the world"- Closing the Technology Gap to Help Eradicate Poverty
With the volume of global trade between economic powers ever increasing, developing countries find themselves increasingly sidelined in the global supply chain. To solve this issue, it is impossible to avoid the question of the technology gap. Industrialized countries are in an advantageous position, allowing them to increase technological capabilities at a speed unseen in the developing world. Simply exporting machines cannot be seen as a sustainable solution. Lasting answers should be found, to ensure a more competitive world market with opportunities for all economies, while strongly condemning industrial espionage.
Your Chairs
Anna Vyrstyuk
My name is Anna Vyrstyuk, studying in Zurich, living in Italy and coming from Ukraine! I will have the pleasure to be one of your Chairs for this conference. I am currently completing my Master's Degree in Banking and Finance at the University of Zurich. My interest in political issues and international relations traces its origin back to 2004, when I decided to participate in the Orange Revolution in Ukraine, despite being only 12 at the time. This experience taught me the real meaning of the words freedom and justice. Hereinafter, my desire to work for an International Organization promoting peace, poverty reduction, and humanitarianism increased always more and more. In fact, fascinated by the world of diplomacy, I entered the MUN world in 2012 and since then it became my passion! I became a member of USIMUN Association, the Model United Nations Association at University of Lugano. Due to my commitment and enthusiasm for participating in its activities, since 2013 I have been elected President of the Association for two mandates and now I am the Vice President of Junes, United Nations Youth Association Switzerland. I participated in many Conferences, national and international, among which I can mention NYMUN in New York, USA, and OxIMUN in Oxford, UK, in positions of Chair, Delegate, and Journalist. What makes the MUN conferences special is this mixture of mind-blowing debates and people who make them possible. But these experiences obviously aren't limited to committee work! At least as important and amazing is the free time and specially the social events that you spend with all the people you meet (and often that's where you see who your professional fellow delegates and chairs really are!). Beyond all this, I love traveling, music and spending time with friends as well as relating to new people! I'll leave it at that because soon we will have the possibility to meet in person and to get to know each other! I'm really looking forward to May and can't wait to see you all!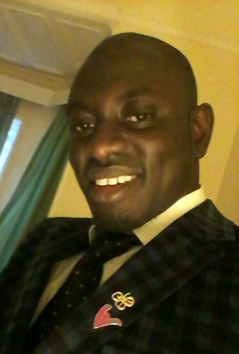 Ebenezer Kwabena Frimpong
I'm Frimpong Ebenezer Kwabena, a postgraduate student at the University of Kwa Zulu Natal School of Pharmacy, South Africa. Currently, I'm the PRO for United Nations Association of South Africa-UKZN branch. I've been a part of the Model UN conferences for about 6 years now and I love every aspect of it. I served as the Committee Chair of WHO during the prestigious Cambridge University International Model UN Conference (CUIMUN 2011). I eat, drink and sleep football. I am a true Cule' (Barcelona the only soccer university on the planet) fan!!! I formed the Network of FIFA Volunteers Against Racism (NOFIVAR) to assist FIFA's effort to combat racism in Association Football. Volunteering is part of my life. I served as an official volunteer during the IAS World AIDS Conference in Durban, South Africa in 2016 as well as during EURO 2012 and FIFA Confederations cup 2013 held in Ukraine and Brazil respectively. To me a UN-less world is like an El Classico without a referee. ITU committee shall have the most memorable MUN ever that is a promise. Hope to see you all in May 2017 with loads of passion and diplomacy skills. Good luck in preparing! Siyabonga! Medaase! Danke! Grazie! Merci! Thank you!